GINETTA G12



The mid-sixties was a prolific time for the Walklett Brothers and Ginetta Cars Ltd. The G4, introduced in 1961 had been steadily developed and by 1966 had become a very successful and quite civilised sports car. Its very light weight also made it a competitive racing car, in particular the G4R with independent rear suspension and a variety of Ford power units, notably in the hands of "works" driver Chris Meek. During 1964 Ivor and Trevers Walklett had produced an advanced glassfibre monocoque chassis, for Formula 3 single-seater racing. Production difficulties dictated that only three cars were built, but the G8 showed promise in the hands of Chris Meek, and valuable lessons were learnt about the design and manufacture of rear-engined formula racing cars.

So it was perhaps no great surprise that two years later a new rear-engined GT racing car, the G12 was launched in 1966, aimed at GT racing in general, and the Motoring News GT Championship in particular. Using the 997cc Cosworth SCA engine (as used in F3), the G12 made its debut in the autumn of 1966, and in the hands of Chris Meek (again) and Willie Green, was soon taking not only class wins, but lap records and outright victories. Its success lay in its diminutive size and ultra light weight, and the availability of Ford's Lotus Twin Cam engine, and dominated GT racing through 1967 and into 1968. The G12 is considered to be the first British designed and built rear-engined GT car; but was eventually to fall victim to its size as Lotus and Chevron caught up, with bigger 2-litre cars (Lotus 47 and Chevron B8). Production of the original G12 came to and end after about 30 cars had been built, but the "modular" componentry, and suspension design would re-appear in the G17 and G18 single seaters for Formula Four and Formula Ford in 1969. At the same time the G16 appeared (a "big" G12 capable of accepting 2-litre or V8 engines) to redress the Lotus/Chevron issue, but was not as successful as its predecessor, and Ginetta Cars was now concentrating on the Imp-engined G15 road car.


Altogether about 35 Ginetta G12s were built "in-period", and a further batch was sold into the Japanese market from 1989 to 1992.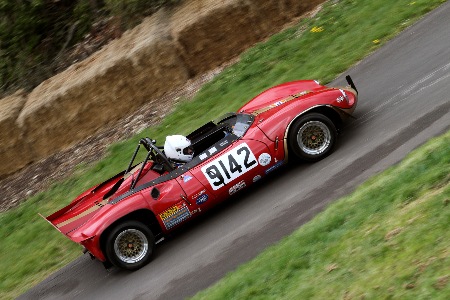 GINETTA G12 # 7032


The Ginetta G12 was a "game-changer" when it was launched in 1966. My own G12, chassis # 7032, is one of the last in the original chassis number sequence, which I acquired in the early nineties whilst Technical Director of Ginetta Cars in the post-Walklett era. At the time I was competing a Jedi-Yamaha and had also acquired an ex-Scan+Sport Reynard 853 as a rolling chassis. The Reynard was then fitted with a Honda 998 power unit for hillclimbing and Monoposto circuit racing.

A Swedish enthusiast who had seen this picture of the Reynard in a feature in Autosport by Marcus Pye, decided he just had to have the car, so it went to Sweden, but without its new Honda engine and transmission, which was now sharing a barn with the G12. Inevitably I installed the ex-Reynard engine into the Ginetta on an "experimental" basis (and partly inspired by the Kawasaki-engined G12 built by Ginetta for the Kawasaki Motor Corporation in 1989).

The "experimental" transplant continues to this day, and #7032 has been driven by James Tearle and myself since 2000……………..


Ginetta G12 #7032 has spent most of its competition career as a GT, but now runs in "spyder" form.

David Tearle Modbury, Devon, 2016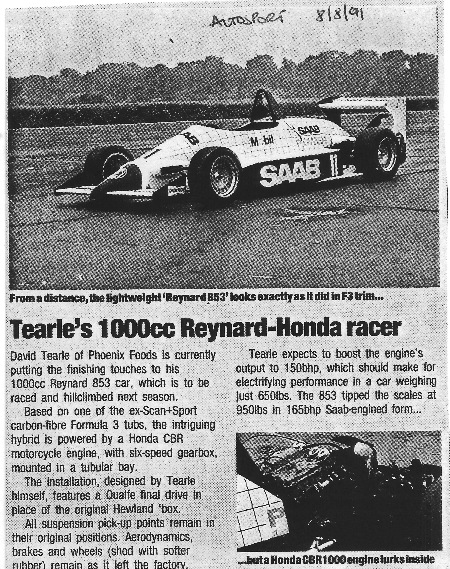 All Rights Reserved © David Tearle 2018